Go back
WGSN Provides an inside look to New York Fashion Week via social media command centre
September 2, 2014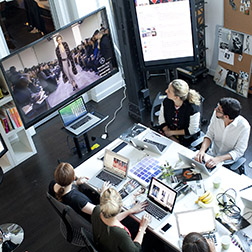 As fashion month kicks off in New York and continues around the globe, WGSN, one of the world's leading providers of intelligence and big data to the fashion and retail industries, as well as the official trend sponsor of Mercedes-Benz Fashion Week, will be reporting live from its first ever social media news room to provide more access to fashion trends and data than ever before. With this command center, WGSN aims to engage, excite and educate its followers with real-time commentary from its global editors, including in-depth critical analysis and commercial insights on the best of the collections and emerging trends.
WGSN's social media initiatives debuting during New York Fashion Week include:
#WGSNHub Social Media News Rooms
· Content experts will report live from WGSN's social media news rooms in the New York and London headquarters
· Command center will provide a constant stream of real-time catwalk data, including what's trending, popular hashtags and visual feeds of the trends across Instagram and Tumblr platforms
· Experts from WGSN offices around the world will be joining in the conversation, creating a hub of information with a global perspective 
#EditorTakeover
· A global team of 30+ editors will live tweet from the shows across New York, London, Milan and Paris Fashion Weeks, using their market expertise to provide real-time critical reviews in 140 characters or less
Twitter Q&As with WGSN Experts
· September 4: Senior Womenswear Editor, Jaclyn Jones, will detail anticipated trends
· September 6: VP North American Content, Sheila Aimette will provide a behind-the- 
scenes look at fashion week through the eyes of a trend forecaster
· September 12: Senior Market Intelligence Editor, Rachel Arthur, will cover digital 
innovations seen at fashion week
· Follow the conversation at #askwgsn 
Google Hangouts live from the #WGSNHub
· September 8: Conversation will explore the role of a trend forecaster during fashion week, featuring WGSN editors alongside industry experts
· September 16: Experts will cover digital innovations used during fashion week from a brand and technology stand-point, with special guests to be announced
· Follow #wgsnhangout for more details #InsideWGSN
· Profiles of WGSN team members, including head of catwalks, head of image management and digital marketing team, among others, to be featured on blog
· Behind-the-scenes access to the team as they report from the social media news room 
Data Days
· New York and London social media news rooms to host a full day of content sharing o Content to include stats on the key looks and colours to know about pulled from WGSN's catwalk analytics, as well as infographics sourced from new-in data via WGSN INstock
#trendingbywgsn
· WGSN and Mercedes-Benz Fashion Week social channels will post engaging graphics themed to four predicted trends, encouraging followers to play the role of trend forecaster
Micro-site to include contest and trend details
 – Four grand prize winners to receive six month membership to WGSN.com
Follow and join the conversation with @WGSN on Facebook, Twitter, Instagram, Google+ and Tumblr, and look out for WGSN's trend highlights published daily.
Press Inquiries:
LaForce + Stevens T: 212 242 9353
Lindsay Karn E: lkarn@laforce-stevens.com T: 646 374 0816
WGSN:
 Gary Schwartz, VP Marketing, North America, gary.schwartz@wgsn.com