Go back
WGSN launches fashion industry news and views site WGSN Insider
August 11, 2015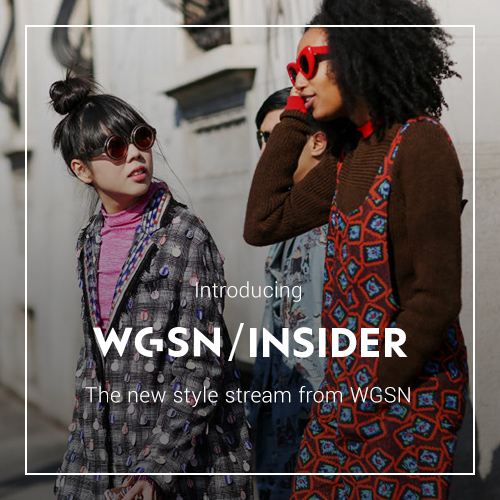 New digital platform offers insider's view of the fashion and creative industries
WGSN has launched WGSN Insider, a new digital platform offering an insight into the lives of the global trend forecaster's editors and other "insiders" from the fashion, interiors, design and creative worlds.
The new free-to-view site features daily news as well as articles from WGSN editors and industry insiders in sectors such as catwalks, denim, youth, beauty, lifestyle & interiors, marketing and technology. Readers can sign up for a free daily news bulletin showcasing the latest content.
Guest contributors from the industry include:
Chair of WGSN's advisory board and former dean of Parsons School of Design, Simon Collins
Jewelbots co-founder, Brooke Moreland
Triumph head of design, Sian Thomas
Kingpins founder, Andrew Olah
NET-A-PORTER.COM VP of Publishing and Media, Tess Macleod Smith
IBM Europe chief creative officer, Cheyney Robinson
The Rodnik Band creative director, Philip Colbert
Dinny Hall Jewellery founder, Dinny Hall
Scotweb Mill and DC Dalgliesh Tartan Weavers owner and director, Nick Fiddes
Brompton Bikes head of accessories development Jennifer Shields
Loaf founder, Charlie Marshall
University of the Arts, London (London College of Fashion), Professor of Fashion Science Helen Storey, MBE
Next Models official colourist, Jack Howard
WGSN Insider is edited by WGSN senior editor, special projects, Sara McCorquodale and WGSN global chief content officer Carla Buzasi will be making regular contributions, including a weekly round-up.
"WGSN Insider reveals the WGSN world, which means – for the first time – we're giving everyone access to the ideas, opinions, imagery and video of our incredible team. As we have editors, photographers and trend forecasters all over the world, our breadth of coverage is unrivalled. One day readers will be able to enjoy street style from Havana, the next they can read comment by the sharpest minds in fashion," said Sara McCorquodale.
"WGSN Insider is also a platform for the industry to discuss issues and share ideas, advice and experiences. We are such an integral part of fashion, it was a natural step for us to create this space," she added.
WGSN's main subscriber site publishes more than 350 reports a month featuring indepth analysis, insight and data on the industry, while WGSN Insider offers a "sneak peek" into that process, said global chief content officer Carla Buzasi. "Our Editors travel the world meeting designers, artists, architects, retailers, entrepreneurs, photographers and more, and with WGSN Insider, we'll be sharing a little bit of those journeys and the characters we meet along the way," she said.
All the content from WGSN's previous blog has been migrated into the WGSN Insider site giving an archive of thousands of articles.
WGSN Insider can be viewed at www.wgsn.com/blogs
If you are interested in submitting content for consideration or contributing to WGSN Insider, please contact sara.mccorquodale@wgsn.com
Press enquiries, please contact:
Samantha Vogts, Ogilvy Public Relations
T: +44 (0) 207 309 1042
M: +44 (0) 7879 488 144
samantha.vogts@ogilvy.com
About WGSN
WGSN is a global foresight business. Our experts provide deep insight and analysis of consumer, fashion and design trends. We inspire our clients to plan and trade their range with unparalleled confidence and accuracy. Together, we Create Tomorrow. www.wgsn.com
WGSN is the World's Global Style Network, comprising of market-leading products including WGSN Fashion Trend, WGSN Lifestyle & Interiors, WGSN INstock, WGSN StyleTrial, and WGSN Mindset bespoke consulting services.