Go back
WGSN calls for industry change with the launch of sustainable denim collection
April 27, 2017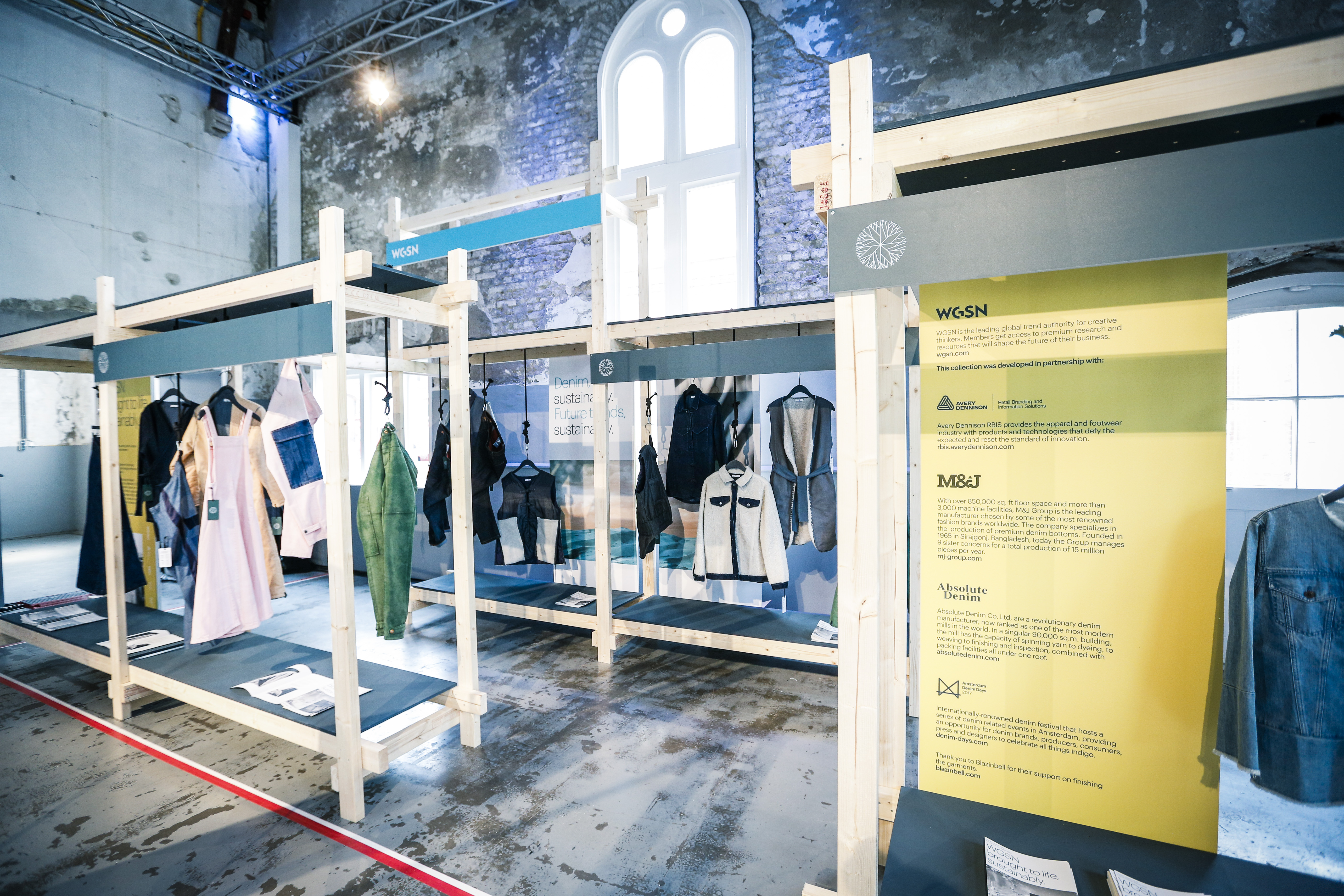 WGSN, the global trend authority, is urging the fashion industry to consider the need for sustainable style with the launch of its first ever physical denim trend line.
The 20-piece sample collection for men and women, incorporating cutting-edge sustainable innovations with WGSN's AW18/19 Future Trends, was created in partnership with Avery Dennison, M&J Group, Absolute Denim and Amsterdam Denim Days.
Each garment was developed and produced using natural dyes and the latest sustainable techniques. Laser and ozone machines were used to replicate 'wear' and 'washed' looks, while water, energy and chemical consumption were traced with M&J Group's START TO MEASURE™ system. It estimates that the WGSN AW18/19 sample collection benefits from 30% chemicals saving, 50% water consumption saving and a 50% energy saving based on industry best practices. The hangtags provided by Avery Dennison RBIS were also made from 100% recycled paper and printed with soy inks, which have a softer impact on the environment, while the labels were made from recycled fibres.
Dio Kurazawa, Denim Director, WGSN, said: "Sustainable collections often fail to reflect trend worthy design and, in doing so, miss the mark on consumer wants and needs. Many of our global customers are conscious of this and have been seeking our advice on how to bring WGSN's seasonal denim trends to life in a sustainable way.
Drawing on the Eastern influences, tran-seasonal layering and modern classics predicted for A/W18/19, we demonstrate how to produce a line that is environmentally sound but doesn't sacrifice of style or substantially increase manufacturing costs. Going forward, we'd like to see standalone 'sustainable collections' become a thing of the past and a socially conscious mindset applied across the board to create a 'sustainable industry'."
About WGSN:
WGSN (www.wgsn.com) is the world's leading trend authority for creative thinkers in over 94 countries. Our services cover consumer insights, fashion and lifestyle forecasting, data analytics, crowd-sourced design validation and expert consulting. We help drive our customers to greater success. Together, we create Tomorrow. WGSN is part of WGSN Limited, comprising of market-leading products including WGSN Fashion, WGSN Instock, WGSN Barometer, WGSN Lifestyle & Interiors, WGSN Styletrial and WGSN Mindset our bespoke consultancy services. WGSN is an Ascential company. WGSN.com
About Ascential plc:
Ascential is a global business-to-business media company that informs and connects the business world in 150 countries through market-leading Exhibitions & Festivals and Information Services.
Ascential powers the prestigious Cannes Lions festival for the branded communications industry, the world's premier payments and financial services congress Money20/20, Spring Fair/Autumn Fair, the global fashion trend forecasting service WGSN, environmental risk data business Groundsure, e-commerce analytics provider One Click Retail and MediaLink, the strategic advisory and business services firm.
Ascential's premium products enable focus, growth and value. The company provides customers with world class content and connections empowering their businesses to be the best informed and best connected. www.ascential.com
About Avery Dennison RBIS:
Avery Dennison RBIS provides the apparel and footwear industry with products and technologies that defy the expected and reset the standard of innovation. From developing waste-reducing labels to supporting emerging designers who use its diverse portfolio of sustainable branding elements, it helps apparel and footwear brands meet consumer demand for ethical, green products. www.rbis.averydennison.com
About M&J Group:
With over 850,000 sq. ft floor space and more than 3,000 machine facilities, M&J Group is the leading manufacturer chosen by some of the most renowned fashion brands
worldwide. The company specializes in the production of premium denim bottoms. Founded in 1965 in Sirajgonj, Bangladesh, today the Group manages 9 sister concerns for a total production of 15 million pieces per year. M&J Groups' START TO MEASURE™ technology sets a standard for the fashion industry, whereby certifiable and scientifically measured data pertaining to a garment's production can be identified and analysed. www.mj-group.com
For more information, images or interview requests, please contact:
Katrina Visser / Lisa van Boekhout
wgsn@finchfactor.com
+31 20 794 4734
+31 64 257 5985