Go back
The Office for National Statistics Partners with WGSN Instock to develop data accuracy
February 3, 2016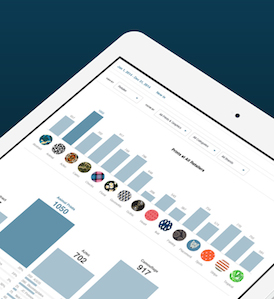 The Office for National Statistics (ONS) and global trend forecaster WGSN today announced a partnership aimed at developing the collection of information used to calculate the Consumer Price Index (CPI).
WGSN, a global business specialising in consumer, design and fashion trends, tracks performance of fashion retail through WGSN Instock, reporting on stock status and pricing of individual items across the industry. The data used is gathered through a sophisticated online system which monitors and analyses e-commerce sites.
Commenting on the partnership, Jonathan Athow, Deputy National Statistician for Economic Statistics at ONS – the UK's largest independent producer of official statistics and the recognised national statistical institute for the UK – said:
"When calculating consumer price indices, we gather information for clothing through a manual process of recording prices within stores. But the ever-increasing speed of fashion retail, including quickly changing styles, means ensuring consistency and accuracy through this method, and maintaining long-term records, is challenging
"We are now experimenting with a different approach, trialling the use of WGSN data to calculate indices for clothing and footwear.  This gives us access to price data across a greater number of products on a daily basis rather than the existing monthly approach on sampled products. We are looking forward to discovering if there are benefits to this approach, for example in reducing fluctuations, that might  indicate that collecting prices this way could enhance our statistics."
Sansan Chen, EVP Product at WGSN said:
"WGSN is the market-leader in fashion trends and insights, providing our customers with data and analytics that enable smarter business decisions and quick reactions in an increasingly speedy industry.
"Whilst we already work closely with many of the UK's, and the world's, leading retailers through WGSN, this partnership with the ONS in helping to develop official statistics validates our approach and emphasis on quality of using big data to understand market positions."
Notes to editors:
WGSN Instock is a big data solution, made specifically for buyers and merchandisers working in fashion. The service analyses more than 100m SKUs from more than 12,000 brands and retailers across 400 product categories with information updated daily. Its vast warehouse of e-commerce data is aggregated to give users high-level insights into their markets, such as identifying mark-downs, out-of-stocks and fast-moving lines. This data is combined with WGSN's custom trend insights to create in-depth reports on stock drops, state-of-the market summaries and KPI analyses of price, position, markdown and product mix. The service has recently been relaunched with a new user-friendly interface and a raft of productivity and personalisation tools to enable users to access exactly the information they need.
The Office for National Statistics (ONS) is the UK's largest independent producer of official statistics and is the recognised national statistical institute for the UK. It is responsible for collecting and publishing statistics related to the economy, population and society at national, regional and local levels. It also conducts the census in England and Wales every ten years.