Go back
Hattrick on the horizon as WGSN is nominated for three British Media Awards
February 19, 2015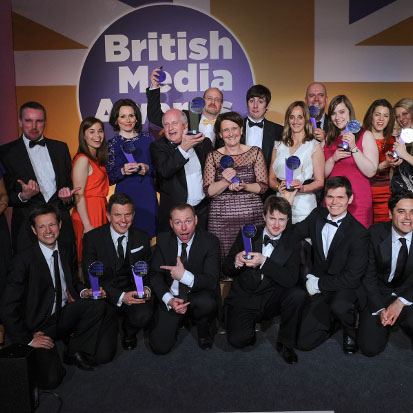 WGSN, global leader in trend forecasting and trend data, have been shortlisted for three prestigious categories at the British Media Awards 2015.
The nominated awards include: Best Content Team of the Year, Website of the Year, and Best Commercial use of Data. The British Media Awards highlight innovation and excellence in print newspaper, digital business website and mobile versions of a consumer magazine.
Taking place on 6 May, the British Media Awards celebrate the best in business across the entire media industry. The awards have quickly become the gold standard against which sector leaders measure themselves and their peers.
WGSN CEO Jose Papa commented, "I am delighted that WGSN has achieved this level of recognition in the most competitive global media environment. Nominations in so many broad ranging categories has given the entire team cause to be proud; it also demonstrates the quality of our content to inspire and enable creative companies to make smart business decisions."
WGSN Global Content Officer Carla Buzasi commented, "Creating commercial value through high quality content is at the heart of everything we do. Having our content offering recognised alongside established global players really endorses the innovative and unique nature of WGSN content as well as the tireless work of our team.
"Our people are at the very heart of our content. They take a broad range of influences from traveling around the world, visiting museums, exhibitions, fashion shows and festivals, then make it relevant for a wide variety of industries and sectors.
"I am also personally delighted to be up against my former team at Huffington Post UK. May the best site win!"
The full shortlist of nominees and categories is available from www.britishmediaawards.com
The 2015 British Media Awards ceremony will take place on Wednesday 6 May 2015 at The Brewery – a spectacular venue in the City of London.
About WGSN
WGSN is the world's leading strategic style intelligence and trend forecasting business. It combines cutting edge technology, big data and passionate experts to enable creative companies to make smarter business decisions.  WGSN provides challenge, knowledge, inspiration and insight to our partners and clients to create a more innovative tomorrow.
The company employs more than 450 people, including journalists, trend specialists, designers, data scientists and commercial consultants. With 17 years of industry experience and expertise, WGSN has a global network of four hubs and experts to support 75,000 users across 4,000 global brands in 87 countries.
WGSN's influence extends across retail fashion, beauty, interiors, lifestyle, customer experience, FMCG, automotive, leisure, branding and telecoms. The company delivers a wide range of services including digital subscription, daily trend and market intelligence, consultancy and data services, and customised solutions for specific customer needs.
The parent company of WGSN is Top Right Group, the international corporate media group. Top Right Group is jointly owned by Guardian Media Group and private equity firm Apax Partners.
For more information, please visit www.wgsn.com
WGSN EMEA Head Office: AirW1, 2nd Floor, 20 Air Street, London, W1B 5AN
www.wgsn.com
###
Press queries:
WGSN
Rajmeena Aujla, WGSN Press Office, London
rajmeena.aujla@ogilvy.com
Direct: +44 (0) 207 309 1134
Kevin Smith, Head of Marketing
kevin.smith@wgsn.com
Direct: +44 (0)207 715 6562