Go back
Collaboration, Exclusivity and Personalisation to shape luxury brands' future success
September 8, 2016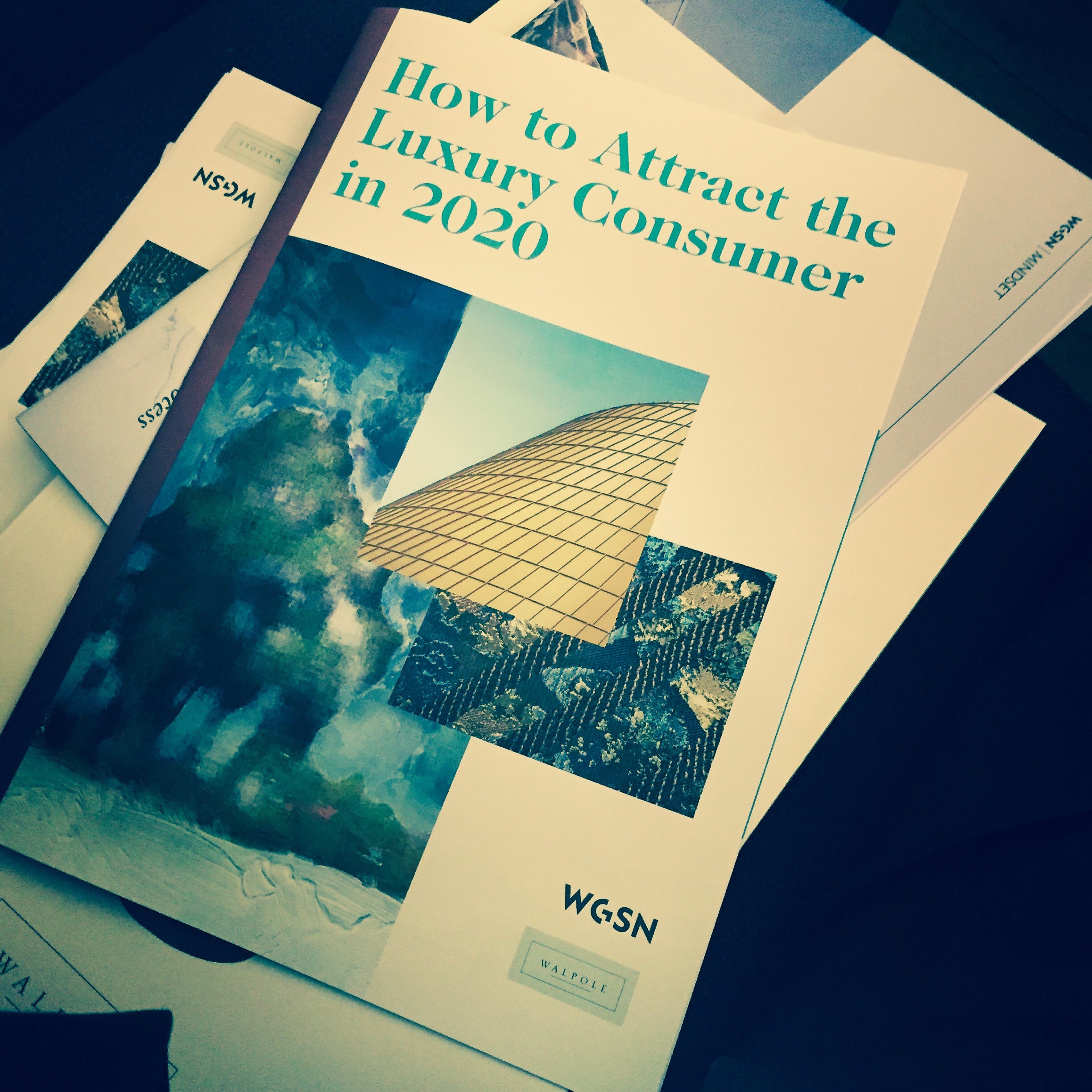 To thrive in an ever-competitive environment, luxury brands should invest in three key areas between now and 2020, according to new research by global trend forecaster WGSN.
The WGSN report, 'How to Attract the Luxury Consumer in 2020', was launched today at the annual Walpole Press Day, revealing the top three most effective trends to lure luxury consumers over the next five years. According to Walpole members, the top three most effective trends will be exclusive collaborations with relevant partners (78%), secret and exclusive brand experiences (59%) and personalised online experiences (e.g. notifications) (53%).
Two key trends – the rise in omnichannel purchases and the need for physical experience – have prompted what WGSN calls the 'phygital' tsunami: physical retail experiences, combined with digital browsing. The survey was formed from this concept to understand the most engaging and relevant tactics to bridge the gap between online convenience and offline experiences.
Carla Buzasi, Global Chief Content Officer, WGSN, says: "It is an exciting time for the British luxury industry, but with so much change comes uncertainty and new challenges. With this white paper we aim to cut through the noise and focus on actionable insights that are smart and practical."
Attendees heard from WGSN trend experts and senior directors, as well as from Walpole members Ettinger, Gieves and Hawkes and Thomas Pink, who discussed the importance of the findings to the British luxury industry and the practical measures brands can employ to steer industry success.
Among the insight shared, the key learning for the industry was the need for brands to engage with their consumers on a deeper level; to inspire and enable them through exclusive, personalised digital content.
Michael Ward, Chair at Walpole, says: "The report findings show how luxury brands need to reimagine their approach to consumer engagement and go beyond static marketing tactics, to achieve consistent relevance in the ever-evolving, 'phygital' lives of our followers."
Ward adds: "The report insights and advice are invaluable to our industry that has a passion for surprising and delighting our consumers. We now need to interpret and apply these trends to personalise our offering and foster industry creativity and growth in the British luxury sector."
George Gill of GGMR, a digital consultancy to the luxury sector, says: The digital space's ability to offer real-time data and insight into customer behaviour gives brands a unique opportunity to connect with customers. Although synergistic collaborations aren't new, the increasing array of technology, tools, creative formats and touch-points enable businesses to deliver an incredibly personalised experience through exclusive partnerships, content, experiences and products. This provides the luxury market with a tremendous opportunity to create a valuable and highly segmented customer journey."
Robert Ettinger, CEO Ettinger London, comments: "Niche brands, personalised products and carefully chosen collaborations with like-minded British brands are the future for luxury accessory businesses, such as Ettinger. Being different, yet still desirable and succeeding in making people feel that they have connected with something special, that's what's important."
The top three trends identified were almost twice as popular as the others surfaced during the research, which included: 360-degree brand experience (e.g. creating fun, cool, and off-the-beaten-track experiences) (41%), incorporating art & culture (e.g. sponsored art exhibitions, promoting favourite books or art) (37%), brand and retail experiences that illustrate a dedication to sustainability (31%), an unfiltered look behind the scenes (e.g. Snapchat, Periscope) (25%), the store as the new home (e.g. retail spaces modelled after home interiors) (25%), and food offers in stores (10%).
The popularity of the top three trends showed clear alignment across the sector on their viability for helping to change the retail space. The insights provided in this survey are typical of the strategic advice from WGSN's consultancy division, WGSN Mindset, who help companies navigate these challenges on a regional basis.
To read the WGSN report, 'How to Attract the Luxury Consumer in 2020', visit https://lp.wgsn.com/download-luxury-consumer-whitepaper.html
About WGSN
WGSN (www.wgsn.com) is the world's leading trend authority, serving fashion and creative-led companies in over 94 countries. Our services cover fashion and lifestyle forecasting, data analytics, crowd-sourced design validation and expert consulting. We help drive our customers to greater success. Together, we Create Tomorrow.
WGSN is part of WGSN Limited, comprising of market-leading products including WGSN Instock, WGSN Lifestyle & Interiors, WGSN Styletrial and WGSN Mindset our bespoke consultancy services. WGSN is owned by Ascential plc, a leading international media company that informs and connects business professionals in 150 countries through market-leading Exhibitions and Festivals, and Information Services. www.ascential.com
About Walpole
Walpole is a unique alliance of 170 of Britain's finest luxury brands, including Burberry, Alexander McQueen, Rolls-Royce Motor Cars, Boodles, Harrods and Jimmy Choo.
Walpole promotes, protects and develops the unique qualities of UK luxury: the long tradition, rich heritage, superior craftsmanship, innovation, design, style, and impeccable service at the heart of the industry – currently worth over £32 billion to the UK economy, a leading creator of jobs and major contributor to the British economy.
Dedicated to nurturing the next generation of Britain's luxury brands, Walpole also runs the annual mentoring programmes Brands of Tomorrow, Crafted and the Programme in Luxury Management at London Business School. These initiatives connect Britain's most talented up-and-coming entrepreneurs, craftsmen and leaders with a network of senior mentors from Walpole's established membership.
Walpole's programme of some 40-plus industry events provides networking opportunities with senior executives, and includes the Walpole British Luxury Awards, Seminars, Workshops, Media Events, Meet the Members events and overseas initiatives.
Walpole lobbies the UK and European governments on issues which affect its members, including the China Visa issue, 'Made in', counterfeiting and selective distribution.
Walpole's thought leadership work and research provides valuable industry insights and data to improve and enhance members' businesses.
Media enquiries:
Four Rain
Walpole@raincommunications.co.uk  
020 7494 4448