Go back
ME/YOU/NOUS: The Gateway to Inclusion
September 14, 2018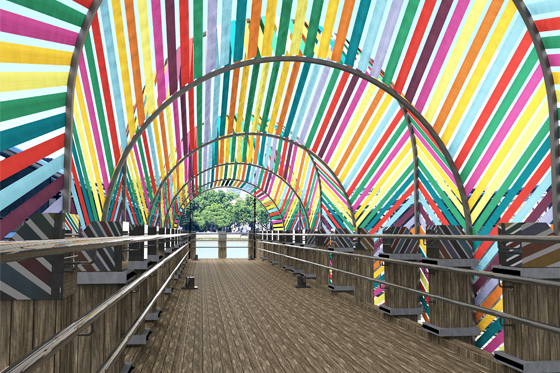 ME/YOU/NOUS: The Gateway to Inclusion
The Saint-Etienne Design Biennale 2019 at Design Junction, London
September 20-23, 2018
At Design Junction during the London Design Festival, the city of Saint-Etienne will showcase a gateway of steel and ribbons to promote inclusion in design. This gateway will travel to Paris and then to Saint Etienne where it will welcome visitors to the Biennale next spring, from March 21-April 22, 2019.
The future will be about designing systems, not stuff.
In an era of individualism, design will find better solutions for living together in multi-cultural, multi-generational, multi-attitudinal societies not based on age, race or gender but on speeds, interests and points of view.
Designing for the future means designing with inclusion, from a table to a wheelchair, a telephone to a town so that our world looks more like everyone and less like no-one.
The Gateway to Inclusion is about creating common ground between people of all personalities, colours, beliefs, shapes and points of view. It points to a future in which there will be a place at the table for everyone: Me, You, Nous. – Lisa White, head curator of the Saint-Etienne Design Biennale 2019
The Saint-Etienne Design Biennale is a gateway to a more inclusive future. With roots in the heart of France that extend internationally, this unique event is open to all: the local population and the global design community. Focused on the most innovative and challenging design futures and research, it invites the audience to interact with and experience the processes of design.
Saint-Etienne is the only French member of the UNESCO network of creative design cities and has played an active role in the global design community for over 20 years, developing in-depth exchanges and partnerships with other member cities and countries. China will be the guest of honour in 2019, presenting both traditional and future-focused design and tech innovation from across the country.
The Saint-Etienne Design Biennale 2019 will be curated by Lisa White, a French American, currently head of Lifestyle & Interiors for WGSN, the international trend forecasting service. For the Design Junction exhibition during the London Design Festival 2018, she and designer François Dumas conceived and created the Gateway to Inclusion as a portal to the larger Biennale, taking place in the spring of 2019.
On a jetty overlooking the Thames, they will build a structure of steel and ribbons, two of Saint Etienne's traditional industries. The steel arches will be of different sizes, dressed in ribbons created by Neyret, an international ribbon manufacturer established in Saint Etienne since 1823 and a partner of the Biennale. Lisa White worked with the colour team of WGSN using the new Coloro colour system, and the experts at Neyret developed an innovative technique of stretching the industrial ribbons in an almost couture manner to fit Dumas' distinctive design. François Dumas explains that "the long, narrow path offered by the jetty inspired me to design this Gateway in a way that would enhance the experience of walking on it, together with others. The colourful ribbons will create a centripetal movement that invites the audience to prolong their experience by visiting the Biennale in 2019."
The Saint-Etienne International Design Biennale, located in the heart of the city at the Cité du Design, is supported by important public and institutional partners, including the City of Saint-Étienne, Saint-Étienne Métropole, the Auvergne Rhône-Alpes region, and the French Ministry of Culture.
About WGSN
WGSN (www.wgsn.com) is the world's leading trend authority for creative thinkers in over 94 countries. Our services cover consumer insights, fashion and lifestyle forecasting, data analytics, crowd-sourced design validation and expert advisory services. We help drive our customers to greater success. Together, we create Tomorrow.
WGSN is an Ascential company.
WGSN.com
About Coloro
Coloro is a truly universal, intelligent and logical color system that allows more accurate and faster communication throughout the color process and manufacturing chain.
A sister brand of WGSN, the global trend forecaster, Coloro helps reduce waste and time in color decision-making and manufacturing by bringing creativity and science together. Coloro was created through collaboration with leading global textile and fashion companies. Coloro's extensive library of 3,500 contemporary colors can be accessed through color books, and by purchasing swatches online. A free digital color tool, the Workspace, is also available on coloro.com
About Ascential plc
Ascential is a specialist, global, information company that helps the world's most ambitious businesses win in the digital economy. Our information, insights, connections, data and digital tools solve customer problems in three disciplines:
PRODUCT DESIGN via global trend forecasting service WGSN;
MARKETING via global benchmark for creative excellence and effectiveness Cannes Lions and WARC and strategic advisory firm MediaLink;
SALES via retail and ecommerce strategy and analytics products from One Click Retail, Clavis Insight, Brand View and PlanetRetail RNG, the world's premier payments and FinTech congress Money20/20, global retail industry summit World Retail Congress and Retail Week.
Ascential also powers political, construction and environmental intelligence brands DeHavilland, Glenigan and Groundsure.
For more information, images or interview requests, please contact:
Bibiana Mesa
bibiana.mesa@wgsn.com
+34 727 735 084
or
Ilaria Pasquinelli
ilaria.pasquinelli@wgsn.com
+44 2077 156199